UW adds six in early signing period
UW adds six in early signing period
| November 13, 2016 |
MADISON, Wis. – Head coach Barry Davis struck gold with six wrestlers who signed national letters of intent to join the Wisconsin wrestling team in 2017. UW's recruiting class is ranked as the 10th best in the nation by The Open Mat.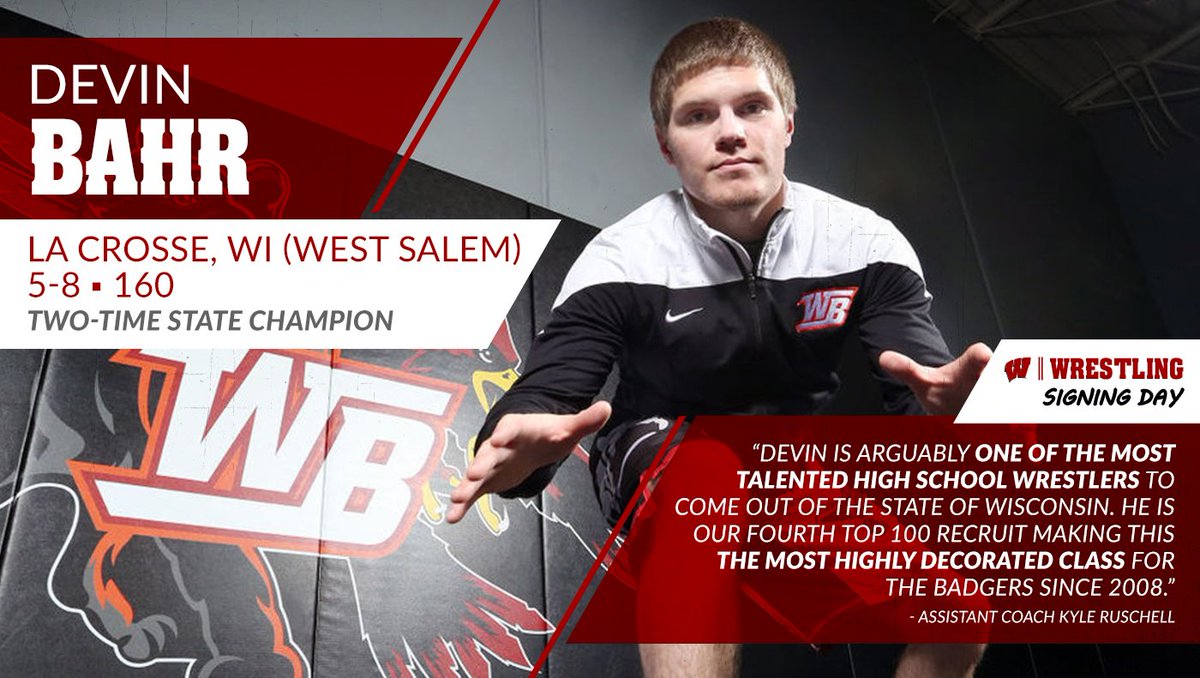 Devin Bahr
Devin Bahr, a native of La Crosse, Wisconsin, is touted as one of the best wrestlers in the state of Wisconsin right now. He is ranked 16th in the country for his weight by both FloWrestling and The Open Mat. Bahr is a two-time state champion. He claimed the title as a freshman at 132 pounds and then again as a junior at 152 pounds. He missed his sophomore season due to an injury. Bahr is a two-time team MVP and holds a 102-0 record for West Salem high school. As a freshman, he also claimed a folkstyle national championship and was a two-time Fargo All-American. As a junior, he set the school record for pins with 36 falls on the season. Bahr has gained international experience as well as a member of the 2013 Cadet Greco World Team.
Assistant coach Kyle Ruschell on Bahr: "Devin is arguably one of the most talented high school wrestlers to come out of the state of Wisconsin. He is going for his third state title this season after having to miss his sophomore year due to an injury. He made the Greco cadet world team while being a freshman in high school and has made the Fargo finals both in freestyle and Greco. Devin is a great leader, student and person. He comes from West Salem High School and is looking to wrestle 149 pounds for us. He is our fourth, top-100 recruit, which makes this the most highly-decorated class for the Badgers since 2008."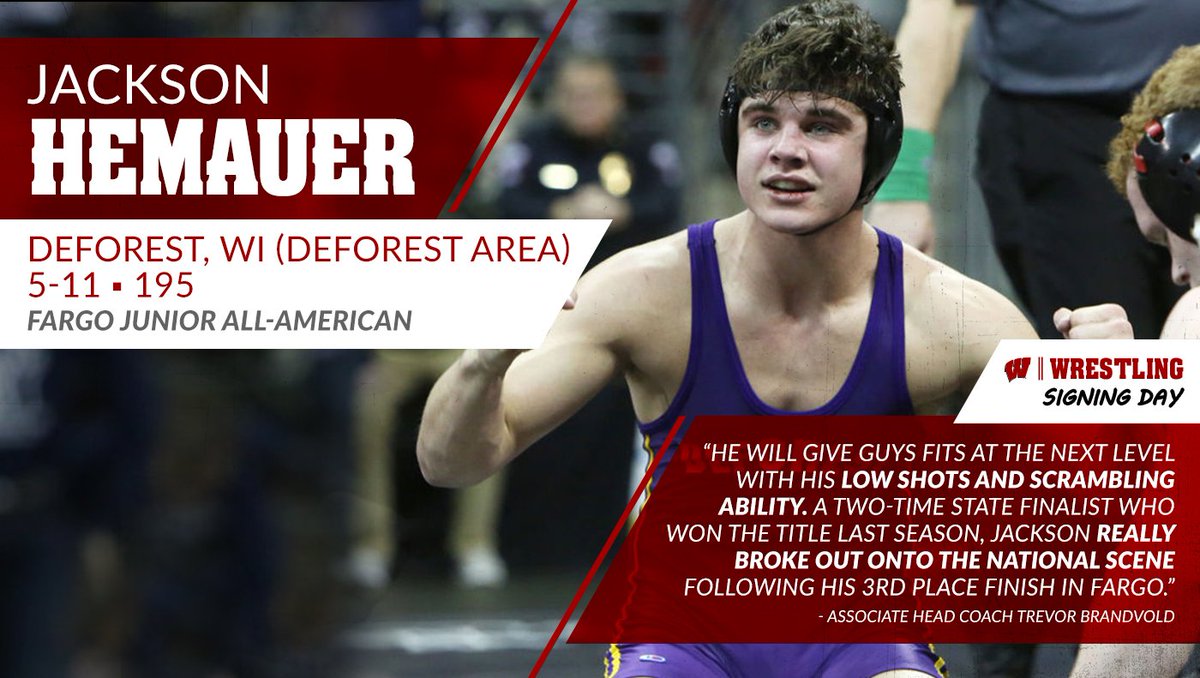 Jackson Hemauer
Wisconsin signed another great state native in Jackson Hemauer. The DeForest Area high school standout is expected to wrestle at 184 or 197 pounds for the Badgers. The 5-11 wrestler was a Fargo junior All-American, taking third place in 2016. In his junior year, he claimed his first state title and was named first-team All-State.
As a sophomore, the two-time team MVP was state runner-up and named second-team All-Area.
His father, Mark Hemauer, wrestled five years at UW-Parkside. Jackson saw plenty of success in the classroom as well, earning first-team Academic All-State as a sophomore and second-team All-State as a junior.
Hemauer is ranked as the No. 1 recruit in the state via Wisconsin Wrestling Online. He is also ranked 12th in the nation by FloWrestling and 14th by The Open Mat.
Associate head coach Trevor Brandvold on Hemauer: "Jackson is a local guy from DeForest. He was our first commitment in this class. We challenged him to be the leader and he stepped up. Jackson has been a guy I've known for a long time. His family has been very involved in the Wisconsin wrestling scene since Jackson was little. He has grown a lot, both as a person and athlete, as well as in stature over his time at DeForest High School. He is a great athlete and can move really well for his size. He will give guys fits at the next level with his low shots and scrambling ability. A two-time state finalist who won the title last season Jackson really broke out onto the national scene following his 3rd place finish in Fargo. That was a gutsy performance out in Fargo, he really showed a lot of passion and skill. He got on a roll and beat a lot of tough guys and we loved seeing that! Jackson is also a top-100 recruit and is expected to wrestle 184 or 197 for us."
Trent Hillger
One of the top recruits to come to the Badgers from the state of Michigan, Trent Hillger will be a notable name for years to come at Wisconsin. The top-ranked heavyweight is a two-time state champion in Michigan and placed fourth as a freshman. He holds an overall record of 182-8.
Hillger is ranked fourth in the country overall by both FloWrestling and The Open Mat in addition to being the top-ranked heavyweight in Michigan. As a junior, he earned All-America status in freestyle and Greco-Roman. He is a two-time Greco-Roman All-American and was a Greco-Roman state champion as a freshman and sophomore. Hillger, the 2015 Flint Area Wrestler of the Year, made the Junior Duals All-Tournament team as a sophomore and junior.
He has seen just as much success off the mat, as academically he has been in the top 10 of his class all four years of high school. He was also a standout in football for Lake Fenton High School.
Head coach Barry Davis on Hillger: "Trent is the total package. An outstanding wrestler, football player and student. He was recruited by DI football programs because of his athleticism and size. He was recruited by Ivy league schools due to his 3.9 GPA and high test scores. It's been so fun getting to know him and his family, they are special people. Trent has worked hard his whole life to get to where he is and he's going to be exciting for Badger fans to watch in the future. He has an attacking style and is tough on top. He's currently the top-ranked senior heavyweight in the country and a top-25 overall recruit."
Paul Konrath
Hailing from Mount Vernon, Indiana, Paul Konrath will be a huge addition for the Badgers. Ranked as the No. 16 recruit in the nation at 132 pounds by The Open Mat and the No. 20 recruit by Flo Wrestling, Konrath will bring a wealth of experience to the Wisconsin wrestling room.
In 2014, Konrath became a FLO National Champion and Fargo Cadet Freestyle champion. He is a two-time member of the Indiana Greco/Freestyle Cadet Dual team and Indiana Scholastic Dual team. In 2015, he took eighth at the FILA Cadet Nationals. The 2016 season was an outstanding one for Konrath, as he placed second at the Fargo junior nationals, third at FLO Nationals and became a 2016 Cliff Keen Folkstyle national champion.
For Mount Vernon Senior High School, Konrath took third place one year at the IHSAA high school state championships and second in another appearance. He compiled a 97-7 record and is a two-time sectional champion and two-time team MVP. He was a conference champion and semi-state champion as a freshman. Konrath was a member of the team that took fourth place at the IHSWCA team state championships and were conference champions.
Associate head coach Trevor Brandvold on Konrath: "Paul is a lightweight from Mount Vernon, Indiana, who we are thrilled to have joining the Badger family. Paul wrestles an attacking style that seems to never stop. He's had success at both the folkstyle and freestyle levels. Paul's a very mature kid who is grounded in his faith and wrestles different because he has no fear of losing. We as a staff bonded with him from the moment he stepped onto campus. He is an incredible worker, a great person, and a top 100 recruit. That's the exact type of athlete we look for."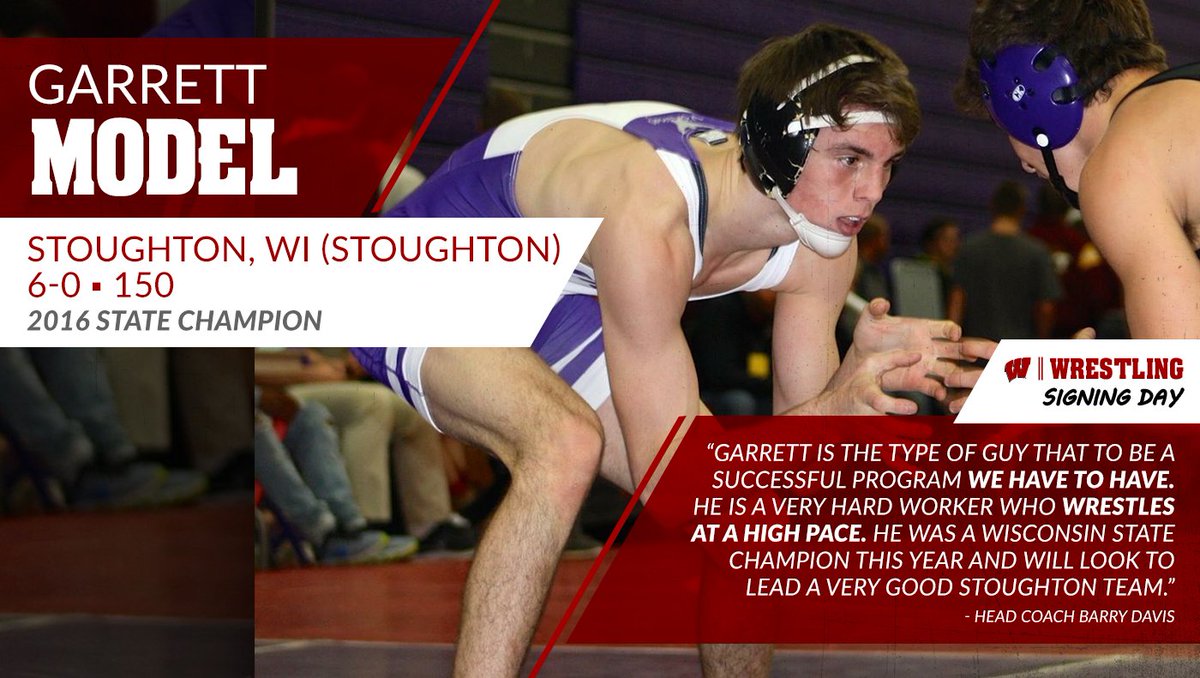 Garrett Model
A standout from Stoughton High School, Garrett Model was a state champion as a junior after compiling a 50-7 record. He's a member of an elite Stoughton team that was runner-ups at state two years in a row. As a sophomore, he was a state qualifier with a 49-10 record.
He was a member of the Schoolboy national team, Wisconsin nation team and competed in Ukraine in 2012.  Model was also involved in Raise the Flag Foundation, Advance School of Wrestling and the Wisconsin Regional Training Center. Additionally, he has four letters in cross country and three in track and field. He was a WIAA State Cross Country qualifier in 2016.
Assistant coach Kyle Ruschell on Model: "Garrett is the type of guy that we have to have be a successful program. He is a very hard worker who wrestles at a high pace. He was a Wisconsin State Champion this year and will look to lead a very good Stoughton team. Garret is a great kid, a leader and a tough-nose wrestler. He has a great two-on-one and goes hard on top. We think he can become a big time player for us."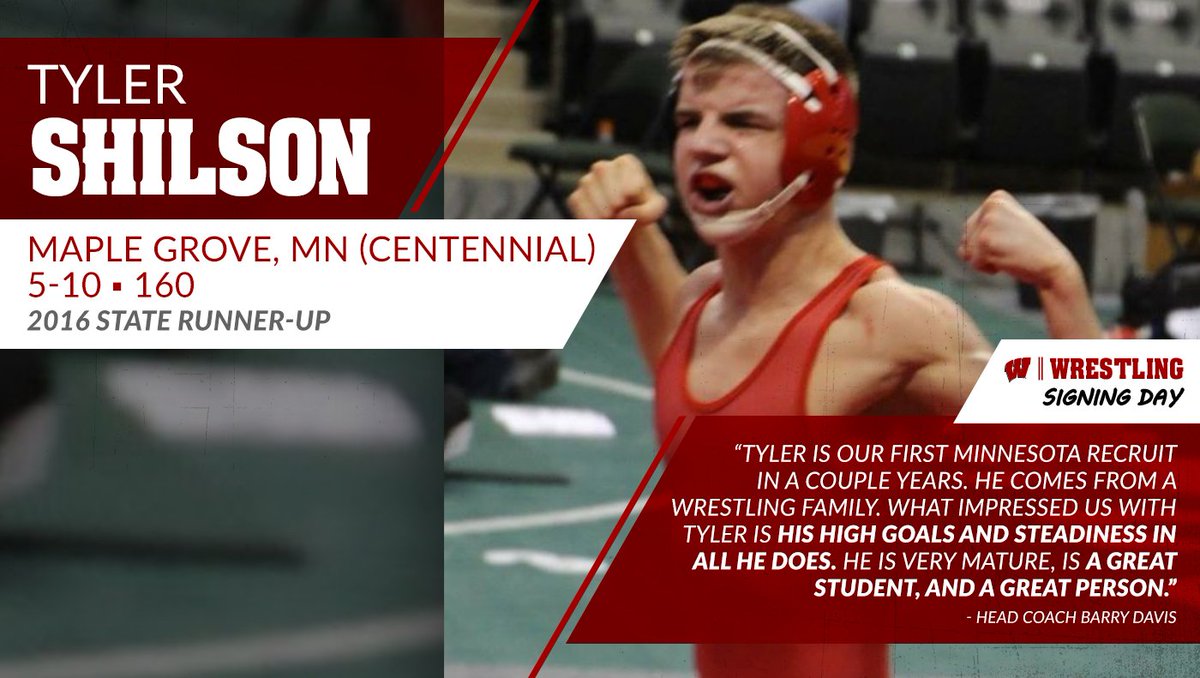 Tyler Shilson
A 5-10, 160-pounder from Maple Grove, Minnesota, Tyler Shilson will be a great addition to the Badgers at either 149 or 157 pounds. The 5-10 wrestler is a two-time state placer in Minnesota.
As a junior, he placed fifth at the Minnesota Christmas tournament, third at the Rumble on the Red, third at the Freestyle Northern Plains and was a sectional champion. Shilson finished runner-up at the MSHSL State tournament at 138 pounds with a 44-4 record.
He is a two-time member of the All-Tournament team in the MSHSL State tournament and two-time state team member. In his sophomore season, Shilson finished in fourth place at 126 pounds at the MSHSL State tournament with 38-8 record. In the same year, he was a Greco and freestyle champion and a Northern Plains Greco and Freestyle champion. He held a 39-6 record in his rookie season at Centennial high school.
Shilson also ran varsity cross country as a sophomore and junior. He has ran seven marathons with a 3:32 PR. He's been a member of the Pinnacle wrestling school for 10 years. Shilson excelled in the classroom too, garnering Academic All-Section honors as a junior and first-team Academic All-State honors as a junior.
He traveled with his father to Bosnia and Serbia to coach him at the Veteran World Championships in 2013 and 2014. His father, Chad Shilson, and uncle, Corey Shilson, both wrestled at Augsburg College. He also attended a USA Cadet Developmental Camp at the U.S. Olympic Training Center as a freshman.
Head coach Barry Davis on Shilson: "Tyler is our first Minnesota recruit in a couple years. He is from Centennial. He comes from a wrestling family. He trains at one of the best clubs in the country (Pinnacle). What impressed us with Tyler is his high goals and steadiness in all he does. He is very mature, is a great student, and a great person. Like all these guys, he wrestles with an attacking style. He will be looking to win a Minnesota state title after finishing second last year. Tyler will be a middle weight looking to compete at 149/157lbs."
Follow the Badgers HERE